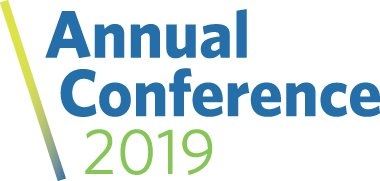 "The Climate Bonds annual conference in 2019 saw 900 people come from 55 countries to discuss how to grow green bonds - and the underlying activity needed to transform our economies - that is commensurate with the huge challenge of addressing climate change. 
The conference has grown from only 100 people four years ago into what is now the world's largest green finance conference. Across three lively, highly interactive, and future focused days we heard from 145 speakers in 20 sessions, including a series of nine in-depth Roundtables.
The global community of green finance specialists who joined us left buzzing with energy to keep pushing change, development and growth of Green Bonds. 
Thank you to everyone who joined us to make the 2019 conference such a success."
Sean Kidney, CEO, Climate Bonds Initiative
STATISTICS
3 Days Programme
8 Venues
Over 900 people attended from 55 countries
470 organisations participant
21 Discussion sessions
145 Speakers
22 Partners
SCROLL DOWN TO SEE THE CBI19 PHOTOS OR GO HERE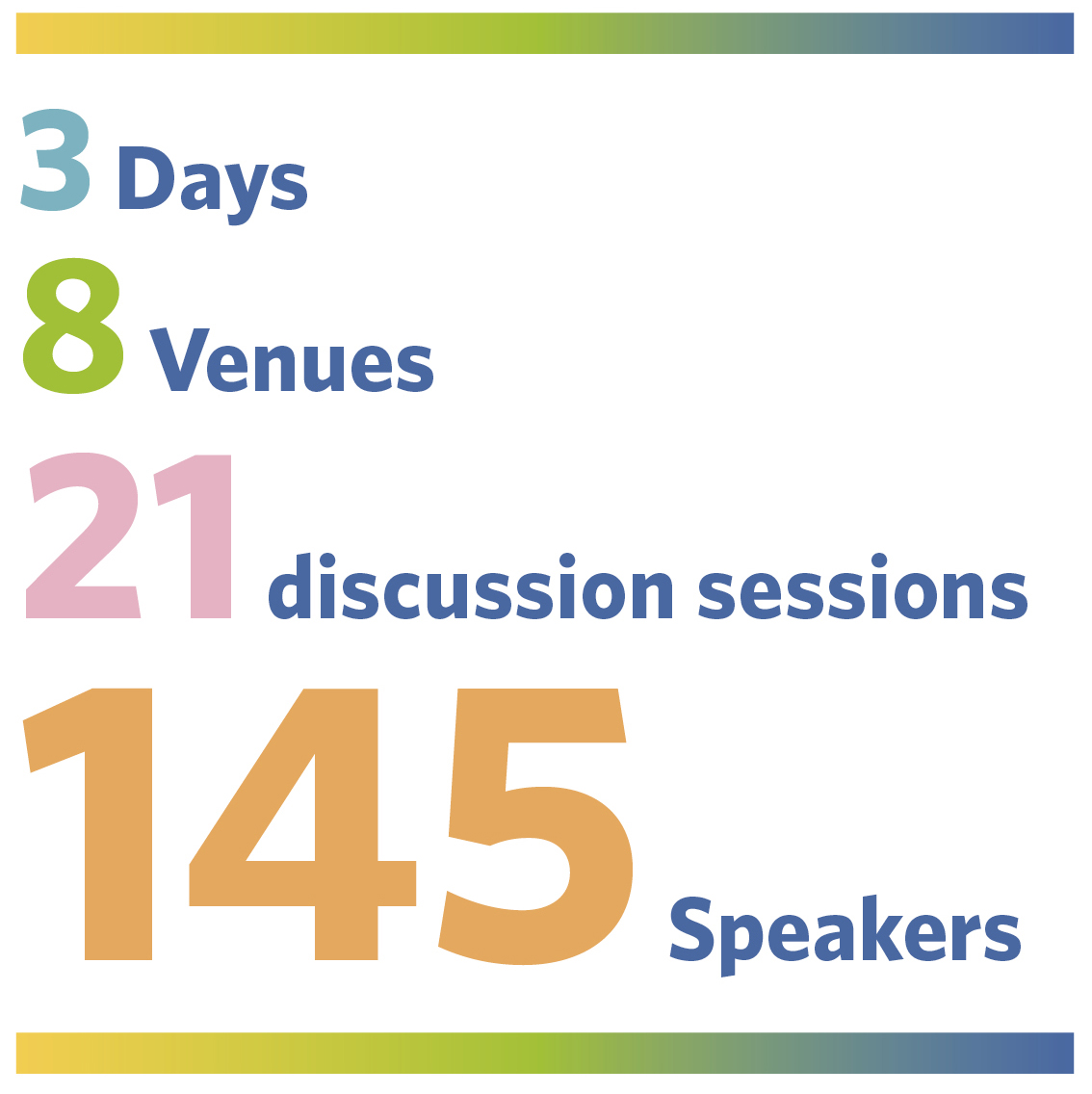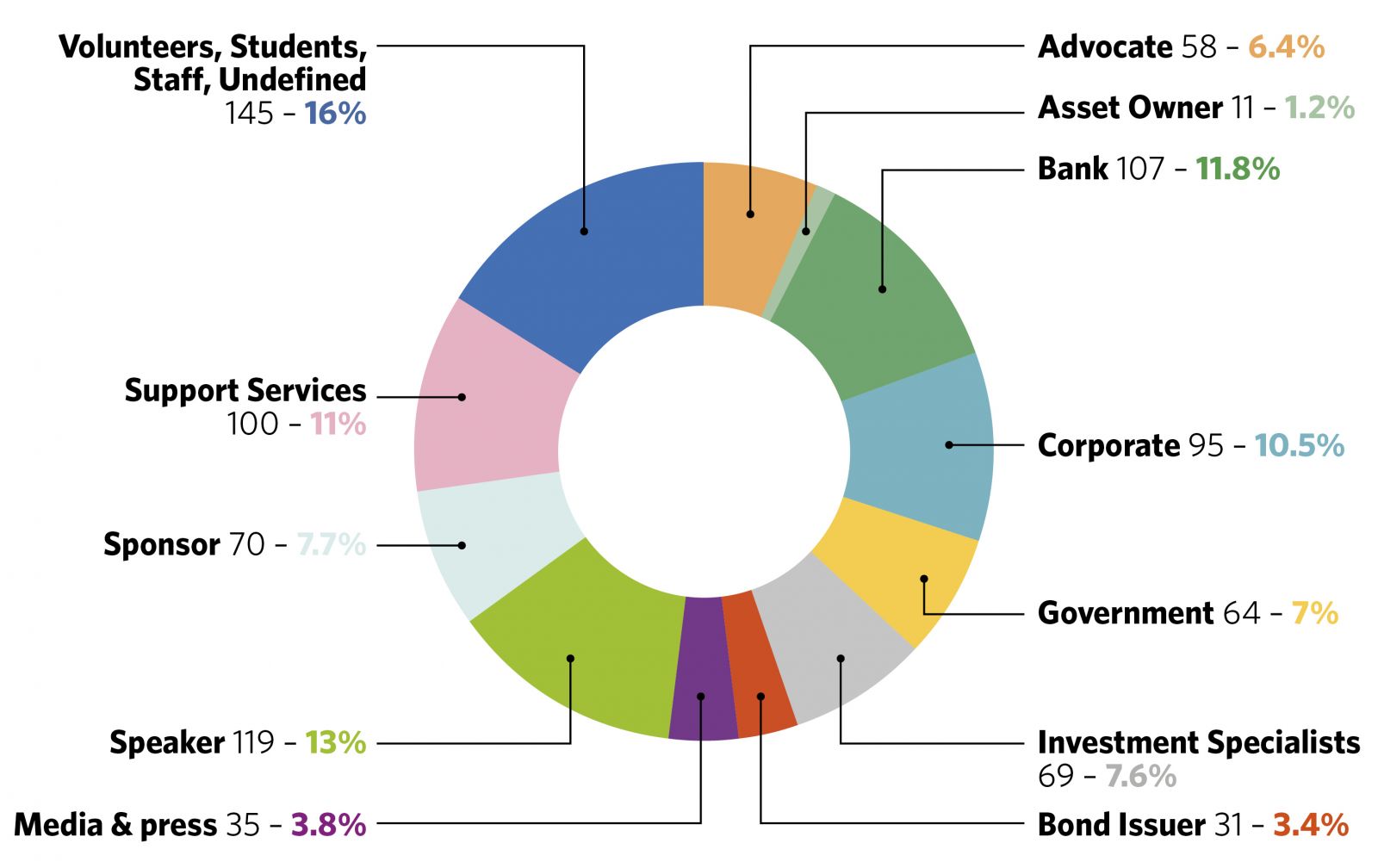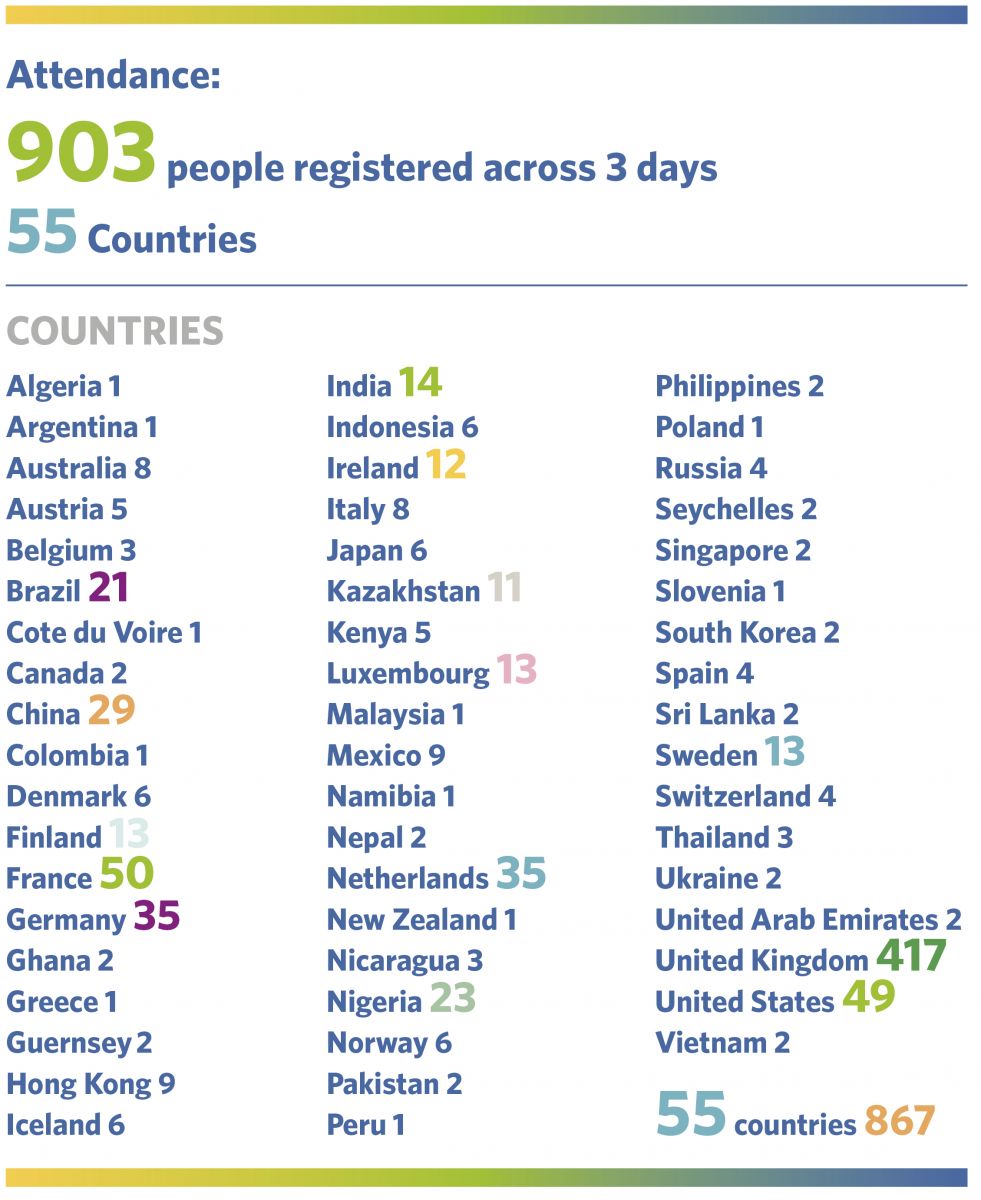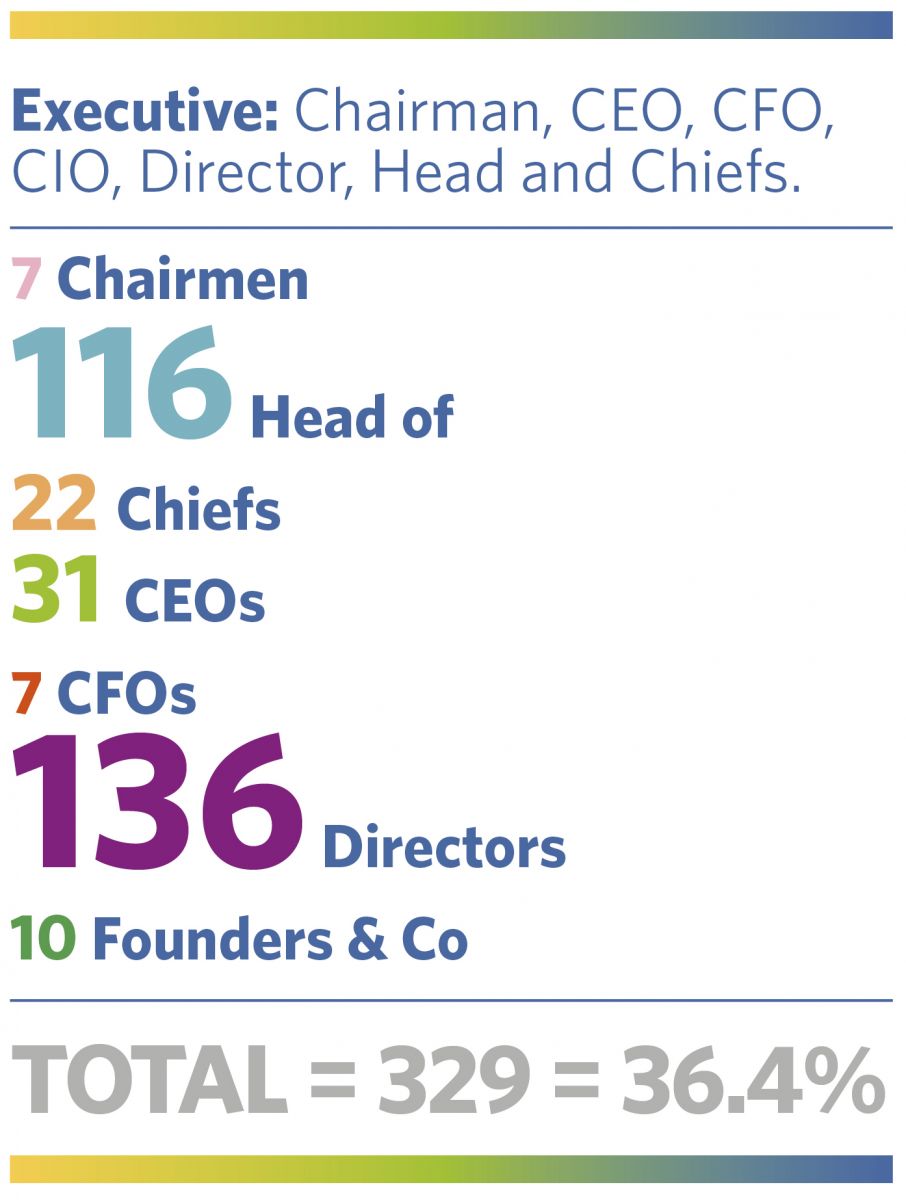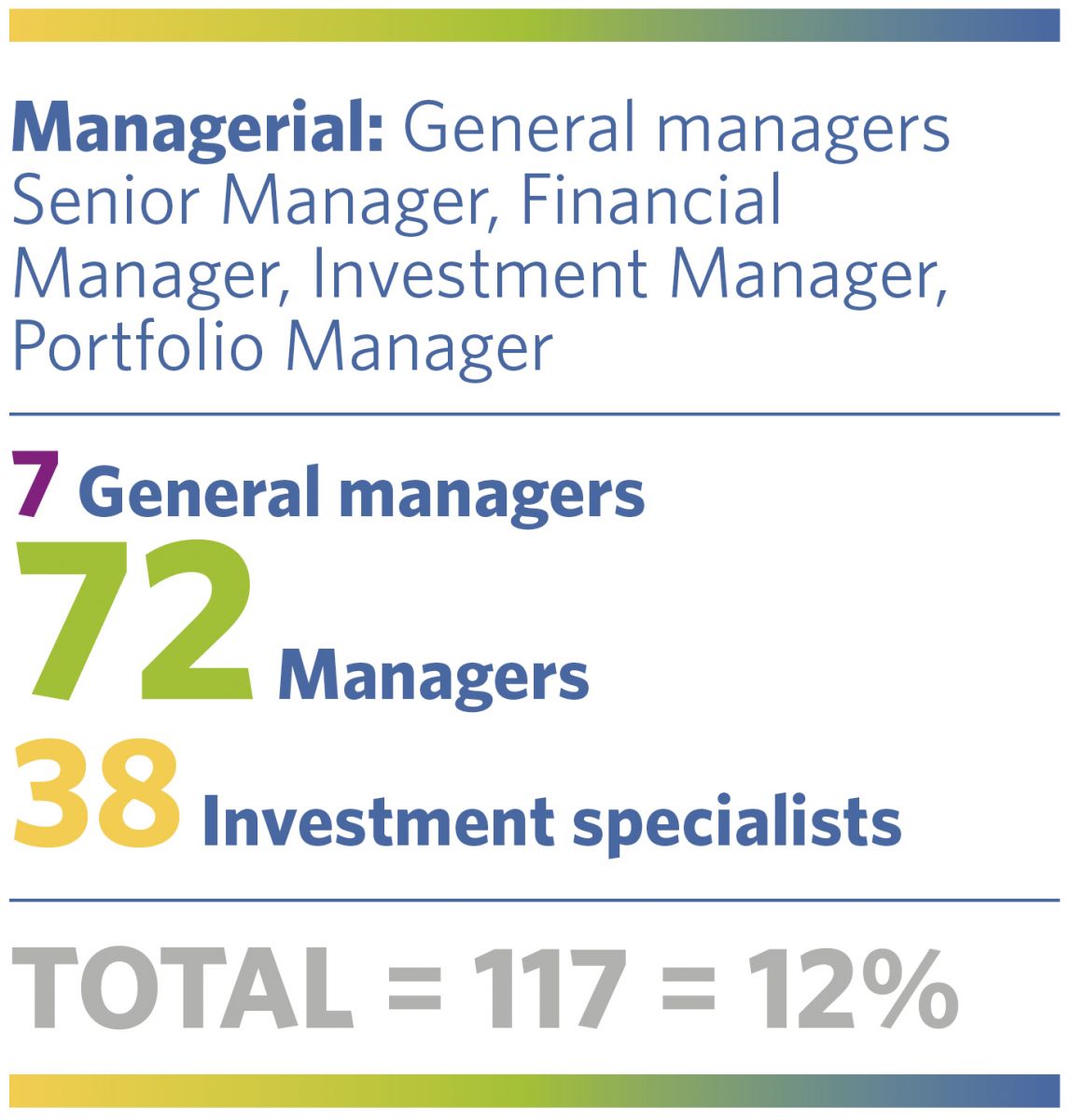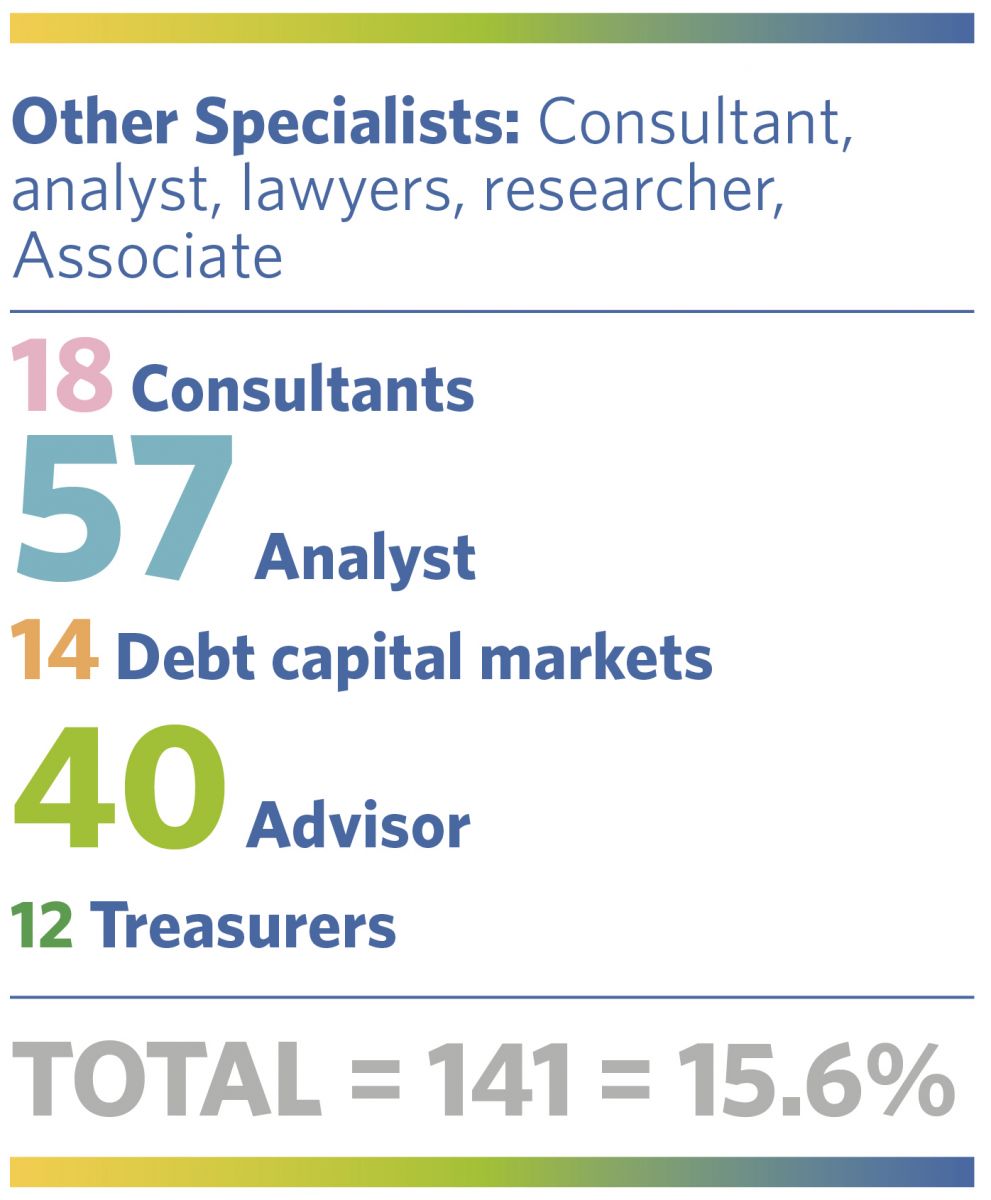 KEY SPEAKERS
Keynote Speaker: Knut Kjær, Partner & Chairman, FSN Capital Partners AS
Daniel Klier, Global Head of Strategy, HSBC
Olivier Guersent, DG FISMA, European CommissionNorgesBank, advisor to Singapore & China govt investment boards
Courtney Lowrance, Head of ESG, AIIB
Frederic Samama, Amundi
Rathin Roy, member of the Indian PM's Economic Advisory Council
Chrissa Pagitsas, Fannie Mae
Felipe Gordillo,  BNP Paribas Asset Management 
Izlan Zainal Abidin, Deputy Chief Executive, Securities Commission Malaysia
James Hempstead, Managing Director, Moody's Investors Service
Leslie Maasdorp, Chief Financial Officer, New Development Bank
Helena Lindhal from Storebrand  
Rhys Petheram, Jupiter Asset Management
Florian Sommer, Strategist, Union Investments
Josue Tanaka, EBRD
Mark Lewis, Head of Climate Change Research, BNP Paribas AM
Michael Sheren, Bank of England
Morgan Despres, Banque de France
Professor Nick Robins, London School of Economics
Sevinc Acar, fixed income investment director, PGGM

INTERVIEWS

CONTENT HIGHLIGHTS & QUOTES
Theme: Green trillions into the 2020s
Regulators, policymakers and leaders stressed urgency: 
"Climate change is the result of the greatest market failure that the world has seen," said Knut N. Kjær, Executive Chairman, Sector Asset Management and first manager of the Government Pension Fund of Norway, as he pressed that markets should be considering the long term when accounting for the risks and returns of their investments.
Olivier Guersent, Director General, (FISMA) – European Commission said, "In 11 years, we have to rethink, dramatically, almost every aspect of the way we live, we travel, we consume, it's an incredible challenge!"
"But as Sean [Kidney] just said, it's a question of 'will' and again the counterfactual, 'do nothing' is so worrying, not for the planet…it's about us." 
"Some of you may know Jean Monnet, one of the founding fathers of EU, he used to say, 'I'm not optimistic, I am not pessimistic, I am determined,' and this is what we need to be now."
Tools to Deliver the Trillions
"100 trillion is needed for a sustainable transition? At the moment the biggest game in town is the green bond market, at over USD500bn to date, so there is a clear funding gap."
"Bank balance sheets are not large enough to finance the infrastructure projects needed. We need to free up the bank's balance sheets to provide space for more investments." – UK based global asset manager
"Development banks are there to drive the transformation of energy, agriculture, land use, etc. This is their purpose; not to finance the odd project. They often don't behave this way, not because of bad intentions, but because of existing micro-incentives and the way the development system has been built up over the last decades." – Jeremy Oppenheimer, SystemIQ
"Leveraging the capital is absolutely necessary to address the massive funding gaps we have discussed. A lot of the projects needed – solar, wind, transport – are capital-intensive upfront, so the cost of capital becomes a very sensitive parameter. And that's where the sweet spot for development banks is, we need to lower that cost and multiply private capital meaningfully." – Chris Knowles, Advisory Council Member – Climate bonds Initiative & OECD Centre for Green Finance & Investment
Political Leadership 
"In both developed and emerging markets there is too much inertia, unwillingness to change, we need more incentive to create change."
"The role of regulators is pivotal. The work by the NGFS is laudable in developing green markets. The Bank of England's work on integration, not just supporting green a bit more but integrating climate risk into the core of risk management frameworks." 
"The EU green taxonomy will accelerate the transition, it will help benchmark projects across the world especially for emerging economies." 
"Green bond standards, both from ICMA & Climate Bonds help green definitions and streamlining of the verification process. This increases the credibility of green bonds in the market.  They are the guide for policymakers in nudging markets towards best practice, support for new issuers and assurance to investors." 
"This is a hearts and minds issue. One of the biggest challenges facing the green bond market and the salvation of our financial system as a whole is using knowledge we acquire here to change political behaviour and practice."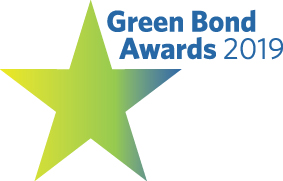 4th Green Bond Pioneer Awards' Winners
The ceremony of 4th year of the Green Bond Pioneer Awards celebrated global leadership in green bond issuance and green finance at the majestic Guildhall in London with the presence of over 300 people including winners, award presenters, partners and speakers, including the illustrious presence of authorities such as:
Surv. Suleiman Hassan Zarma  - Honorable Minister for Environment Federal Government of Nigeria
Mr. Luky Alfirman, Director General of Budget and Risk Management at the Ministry of Finance of Indonesia
Mr. Derick Ally, Seychelles High Commissioner to the UK
Mr. Olivier Guersent - Director-General for Financial Stability, Financial Services and Capital Markets Union of the European Commission
The GBPA are the premier annual recognition of achievement by organisations, financial institutions, governments and individuals who have demonstrated leadership through pioneering initiatives and green issuance, providing best practice examples of climate resilient and low carbon investments in a diverse range of nations and markets.
This year's awards include expanded focus on emerging economies & smaller nations' climate action achievements – with recipients from ASEAN, LatAm and Africa – reflecting the critical importance of accelerating climate resilient investments in sustainable infrastructure and the broadening of cross border capital flows to support low carbon economic growth.
The 2019 event recognises pioneering issuers and green finance actors with Awards' categories:
Largest single bond to a trillion market – Kingdom of Belgium
Largest emerging markets bond to a trillion market – Industrial Bank Co. Ltd.
Largest new issuer to a trillion market – Kingdom of Belgium
Largest new emerging markets issuer to a trillion market – Republic of Indonesia
New products – digital green bond – Verbund AG
New products – green convertible bond – Sumitomo Forestry Co
New products – loan portfolio green notes – National Australia Bank
New countries taking green bonds global – Landsvirkjun (Iceland)
New countries taking green bonds global – TLFF I Pte Ltd (Indonesia)
New countries taking green bonds global – Fransabank SAL (Lebanon)
New countries taking green bonds global – Bank Windhoek (Namibia)
New countries taking green bonds global – EDP (Portugal)
New countries taking green bonds global – Republic of Seychelles (Seychelles)
New countries taking green bonds global – TMB Bank (Thailand)
New countries taking green bonds global – Atlas Renewable Energy (Uruguay)
Largest Certified Climate Bond – ING
Largest emerging markets Certified Climate Bond – ICBC London Branch
Largest new Certified Climate Bond issuer – Société du Grand Paris
Largest new emerging markets Certified Climate Bond issuer – State Bank of India
Largest external reviewer – CICERO Shades of Green
Largest Approved Verifier for Certified Climate Bonds – Sustainalytics
Largest green bond underwriter – Crédit Agricole CIB
Largest emerging markets green bond underwriter – Bank of China
Green bond taxonomy harmonization – EU TEG on Sustainable Finance
Green bond champion 2018 – Chrissa Pagitsas
Green bond regulator 2018 – Autorité des Marchés Financiers
Green bond listing venue 2018 – Luxembourg Stock Exchange
Green bond development bank 2018 – IFC
Green finance collaboration 2018 – Amundi Planet Emerging Green One Fund
Green bond framework 2018 – Fannie Mae
Green bond reporting 2018 – SNCF Réseau
Certificate of Recognition:
Landsvirkjun for issuing the first public sector green bond from Iceland
Republic of Indonesia for issuing the first public sector green bond from Indonesia
National Treasury Management Agency for issuing the first public sector green bond from Ireland
Auckland Council for issuing the first public sector green bond from New Zealand
Republic of Seychelles for issuing the first public sector green bond from the Seychelles
SID Bank for issuing the first public sector green bond from Slovenia
KBC for issuing the first financial corporate green bond from Belgium
Fransabank SAL for issuing the first financial corporate green bond from Lebanon
Prologis European Logistics Fund for issuing the first financial corporate green bond from Luxembourg
BBVA Bancomer for issuing the first financial corporate green bond from Mexico
Bank Windhoek for issuing the first financial corporate green bond from Namibia
BBVA for issuing the first financial corporate green bond from Spain
TMB Bank for issuing the first financial corporate green bond from Thailand
WDP for issuing the first non-financial corporate green bond from Belgium
Empresa de Energía del Pacífico (EPSA) for issuing the first non-financial corporate green bond from Colombia
TLFF I Pte Ltd for issuing the first non-financial corporate green bond from Indonesia
EDP for issuing the first non-financial corporate green bond from Portugal
B.Grimm Power for issuing the first non-financial corporate green bond from Thailand
Atlas Renewable Energy for issuing the first non-financial corporate green bond from Uruguay
Santiago Exchange (Chile) for introducing green bond guidelines
Bolsa de Valores de Lima (Peru) for introducing green bond guidelines
New York State Housing Finance Agency for being the most frequent Certified Climate Bond issuer in 2018
ABN AMRO for being the first to issue a Certified Climate Bond under the newly released Marine Renewable Energy Criteria of the Climate Bonds Standard
Bank of China for being the first to issue a Certified Climate Bond under the newly released Water Infrastructure Criteria of the Climate Bonds Standard
Westpac for launching an institutional green deposit scheme to finance assets which meet Climate Bonds Certification requirements
BBVA for being the first issuer to publish an integrated SDG framework for green, social and sustainability bonds
Société du Grand Paris for their programmatic green bond issuance framework f or providing external reviews to the largest number of new issuersSustainalytics

PARTNERS